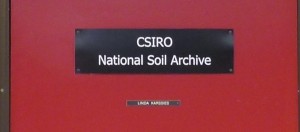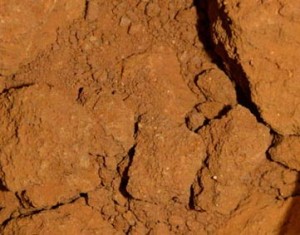 leap of imagination—National Soil Archive (August 2)
The biological collections I have seen and described so far in this blog, the wildlife, insects and plants correspond with the expectation of rare, curious or noteworthy of things being collectable. Before the systematic sorting and classifying taxonomy of natural history collecting in the eighteenth and nineteenth century Europe, these things, were found in the sixteenth century reference collections used by early naturalists such as Ulisse Aldrovandi and Conrad Gesner. Although whimsically referred to as 'cabinets of curiosities, rarities' or Wunderkammer the purpose and intent of these collections was for a comprehensive and universal understanding of nature. Various other curious objects and artifacts were in these collections as well as geological samples and in a sense these correspond most with the next collection and demand a leap of imagination. From evidently realized things that can be readily seen, touched, experienced and well understood to have been once growing and moving, to the enigmatic, inscrutable phenomenon of soil. Soil collection and the science and study of soil —Pedology (and processes that form it—Pedogenesis), date from the work of the Russian geologist Vasily Dokuchaev in the second part of the nineteenth century.
In contrast to the flora and fauna featured in the other collections the form and definition of soil material obviously very different stuff and apart from the immediate and superficial layer, for the most part it is generally out of sight and out of mind. Its deceptively complex and characterised by (the) extremes of scale: on the one hand connecting climate systems, topography and vegetation, on another (scale) a plethora of micro-organisms (animal and plant) and minerals. It has a central role in biological systems, land management, agricultural activity and environmental research.
The collection is part of CSIRO Land and Water Division and a meeting (2 Aug) in Discovery Center with Peter Wilson who manages a team of soil data and geographic information specialists, David Jacquier ASRIS (Australian Soil Resource Information System) and Linda Karssies the National Soil Archive manager, reveals its significance as a resource for the Division's research program and other wider environmental research projects. We head off to the Soil Archive located at the top of Black Mountain to begin a comprehensive tour of the collection. The warehouse style building is filled from floor to ceiling with rack after rack of industrial scale shelving, each one closely packed with uniform one-litre jars of dried, analysed and labelled (and barcoded) samples. There are there are over 71,000 soil samples from 9,500 sites across Australia and each site is represented by numerous specimens that systematically sample the differences in soil as it changes (horizons) at the depths below the surface. Adjoining this area of the archive are the racks of shelving boxes and crates holding thousands of specimens from CSIRO and other organizations collections they are the ongoing task for the archivist.
In addition to these boxes of specimens destined for the archive, there are historic soil samples: pre1945 they are free of chemical contamination from pesticides, herbicides and pre nuclear testing. In a quaint old fashioned filing cabinet (green paint and rusting draws) there are pink cards filled with hand written copperplate script describing sites and soil data from the 1920s; in other rooms and offices are more files and shelves of large leather bound account /record books, boxes of official forms with carefully drawn maps of locations and sample sites (1960s?), boxes of 35 mm Kodak slides show views of/from collection sites, glass soil slides and more recent (but still) dated looking computer printouts sheets. Apart from the intrinsic value of the data, this historic legacy of sampling is in itself an account of the shift in methodology and technology of data collecting, analysis and archiving across the twentieth century.
In a paradoxical way the seemingly obscure Soil Archive highlights key features that are also central to the other collections. As well as the taking care of their own range of unique specimens and developing the material to be a relevant resource and reference for research they utilize an array visual systems. Visualizing technologies are used to comprehend data and offer new insights about material specimens through analysis (such infra-red scanning), images are central for data management, access and interpretation in visual systems such as mapping. The soil information available in the Australian Soil Resource Information System (ASRIS) <www.asirs.csiro.au> uses coloured maps, satellite images, tables, graphs and photographs. Considered together with the other collections, the National Soil Archive continues the quest of early naturalists who first sought a comprehensive and universal understanding of nature.
<http://www.clw.csiro.au/aclep/archive/index.htm >