Articulations: true stories is a working title
The first week of this 2011 Synapse Residency program with CSIRO coincides with the opening of the Re-Imaging Nature exhibition within the CSIRO Discovery Centre Canberra. The range of work in the installations Hidden Visions and Ground Truth includes artists' books, prints, image and audio projections that offer a background to the residency and a reference for the beginning of this research project.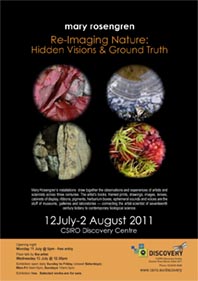 The postings in this blog will track the progress and process of my research into the CSIRO National Collections and selected research facilities. This has been initiated with preliminary planning and discussion with Cris Kennedy, Director- CSIRO Discovery Centre regarding the perceived outcome of the project and setting up visits to a number of the collections.